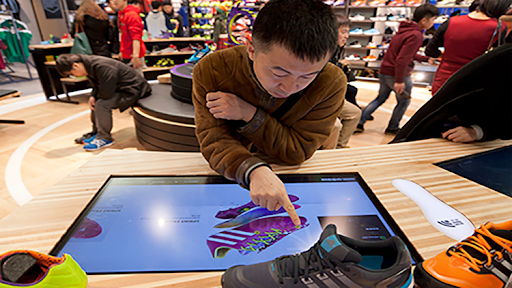 Ways To Navigate Your Retail Business In Today's World
In the aftermath of COVID-19, the face of the retail industry has changed — with tighter e-commerce integrations and customers changing the way they shop. Unsurprisingly, many brick-and-mortar retailers have increased investments in their e-commerce platforms. Some have even changed their minds and gone digital for the first time. Seeing these trends, the Indian e-commerce market is expected to grow to $140 billion by 2026. Even in 2021, as per a report by KPMG, for 24% Indian companies, e-commerce accounted for 20% of overall sales. A major factor behind this shift is the changes in consumer buying behaviors, with more than 60% of Indian consumers shifting to e-commerce marketplaces.
We're all realising that the lessons learned from COVID-19 will be a part of our lives for a long time, which is why retailers must speed up their transition to digital. In this article, we will share some tips that will help you navigate and thrive in this post-pandemic world.
Utilize Customer Data for Personalization: Brands can analyze customer data to provide them with personalized shopping experiences. According to a report, more than 90% of consumers are more drawn towards brands that remember them and offer personalised offers. This shows that customers expect brands to know what they want and need before they even ask for it. To keep up with this surge of personalized demands, brands have to bring the right products to the right customers, instead of waiting for the right customers to come to them.

Engage With Customers:

 

Sending relevant promotional campaigns, reacting to customer comments, and managing your personalised loyalty program will brands accomplish this. Regardless of the channel customers use to contact a brand, you can employ a consistent and tailored message for them. You need to look at customer acquisition holistically and not just channel-wise offline or online. In today's world, many customers move from offline to online channels and vice versa. Besides, you should look to leverage your uniqueness as a brand. You can use your expertise and knowledge in business by providing tutorials and workshops in an offline setting. For online channels, you can incorporate live chat or even video chat features into your website.

Embrace the Digital

: COVID-19 has accelerated customers' attention to digital channels. According to a report by Bain & Co., the fiscal year ending March 2021 was one of contrasts for India's retail market. The overall retail market shrunk by 5%, along with a 7.3% contraction in GDP. However, the Indian e-retail market saw a 25% growth despite a 2-month national lockdown and multiple prolonged disruptions in regional pockets over the year. Brands and retailers must have a responsive website which is aligned to their in-store offerings and gives customers a seamless experience.

Develop an Omnichannel Strategy

: The COVID-19 pandemic led to profound changes in business models, driven by consumers' preference for new channels offering value and comfort. Brands are looking for more ways to directly engage with consumers and give them a differentiated experience. Accelerated by the pandemic, there has been an explosion in D2C brands in India—both established and insurgent (nearly doubled from 2 years ago). Consumers are increasingly switching between offline and online touchpoints across their purchase journey. Offline retailers are also increasingly going online and are partnering with e-retailers to offer consumers a seamless experience. An omnichannel strategy empowers brands to deliver a tailored experience across other channels and touchpoints.

Tech-enabled in-store experience

: A good in-store experience is absolutely critical in today's times. As e-commerce keeps growing stronger, many retail companies are exploring ways to merge their physical and digital offerings into phygital experiences. This merging of the digital and physical is often referred to as 

phygital

. One way of doing this is through 

endless aisles

. An endless aisle is a virtual presentation of merchandise used to complement the physical inventory in an offline store. When customers are walking the aisles of a store, they are able to browse items that are not physically available. Customers can shop from the shelves or pick from the virtual selection and hence will either leave the store with shopping bags or online tracking numbers. They will not have to leave empty-handed. For example, endless aisles at Lee's stores in India have given a boost to its sales.

Leverage Supply Chain Strategies

: The global nature of the pandemic has shown that retail businesses need to focus on the reliability of their supply chains. For some companies, this means moving production sites closer to where people want them. For example, if you give more weight to durability than price, you may need to rethink the product's price. If that happens, your shoppers will review the trade-offs they are willing to make to buy a durable product. Besides, there are external factors such as the ongoing Ukraine-Russia war that has disrupted global supply chains for several months now. The real challenge for retail business leaders is to figure out what these trade-offs look like and alter their supply chains accordingly.

Same-Day Delivery

: Consumers want to have multiple delivery options to choose from, and to receive their products as fast as possible. Once consumers have experienced a superior service level, they are usually hesitant to return to the previous inferior level. Thus, adding to loyal client base and increased sales. A good example would be Amazon Prime and Swiggy One, where consumers are willing to pay for monthly subscription as an upgrade to the services. According to Invesp research, 61% of consumers are willing to pay more for same-day deliveries.

Retailers need to let go of traditional belief systems and adapt to the present external environment conditions. As we move into the new normal world scarred by the likes of contagious viruses, retail leaders need to rethink their business strategies to become more flexible and resilient. One way of doing this is by taking advantage of an omnichannel strategy. ace turtle, with its fully integrated omnichannel platform Rubicon helps brands and retailers by integrating all their sales channels to provide a single view of inventory and order. This enables brands to get orders from any channel (online and offline) and fulfil it from any stock point. The platform helps brands to improve their product availability and optimise their inventory in an efficient manner through multiple demand channels (fulfilling from the same inventory pool), leading to a significant rise in sell-through and margins.