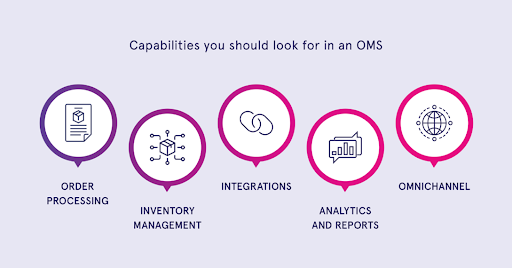 Tips To Implement An Order Management System As A Strategic Business Tool
Brands and retailers receive hundreds of thousands of orders from customers daily across many channels – websites, marketplaces, offline retail stores, and kiosks. Due to sub-optimal allocation of orders, often the deliveries get delayed. This creates a negative customer experience. With customer demands going up with each passing day and order processing timelines shrinking, efficient management of orders at scale is critical. Having the right Order Management System (OMS) is hence critical for brands and retailers.
Is Order Management System (OMS) a strategic business tool? It would be incorrect to view OMS only as an automated tool to route and track orders. It is much more. It is an interconnected ecosystem – a goldmine of data on customers, sales channels, products, suppliers, packing, shipping, and customer service agents. It is intelligent data in real-time that can be used to track key performance indicators (KPIs). For example, details of return costs could pinpoint inefficiencies in logistics and help change business plans.
Dropouts on the product pages due to high delivery timelines or due to inefficient order-routing algorithms often lead to a drop in new customer acquisition or retention of existing customers. Setting up an OMS can be daunting but well worth the effort. Here are some tips for implementing a new Order Management System:
Be Clear On Why You Are Implementing An OMS
Which specific tasks should the OMS perform? Which problem should it solve? An OMS that syncs with business strategy can significantly impact business efficiencies and profitability. For example, if a retailer wants a differentiated marketing strategy, it could set the task of automatically generating segment-wise customer reports. This would allow targeting expensive brands to high-value customers and bestsellers to first-time users.
Ensure OMS Integrates With All Relevant Systems In Real Time
It is crucial to ensure that OMS is synced with systems such as backend software, marketplaces, and other platforms, e.g. delivery partners. If there are lags, it can affect critical areas like inventory accuracy. This could trigger a series of negative impacts in the order fulfilment process, from missed shipments to order cancellations.
Check For Advanced Features If Required
Typically, an OMS checks whether the items in the order are available at the various stock points and then allocates them to the chosen stock point for fulfilment. But a powerful system could also decide the most optimal fulfilment point based on advanced algorithms and allocate the orders accordingly, without any manual intervention.
Check What Kind Of Customization And Controls Can Be Set Up
For example, a retailer may want to give limited access to vendors to create purchase orders as stock levels reduce automatically. A retailer could set up criteria for the OMS to route orders. Sometimes, orders may need adjustment mid-way through the fulfilment process. Without proper controls in place, this could get difficult
Find out scalability for future business needs
As the business grows, it is important to check the scope for expansion, especially sales channel integrations. Many online retailers with a physical store may, in the future, wish to add scalability of stock points, pin code serviceability, channel additions and in-store solutions etc. For OMS platforms, if factored in, it is simply adding another inventory and fulfilment centre.
OMS Implementation – A Strategic Decision
Implementing an OMS is a strategic decision. It is feature-rich and contains a wealth of data and analytics that can remove inefficiencies in day-to-day operations and increase productivity and scale your e-commerce business. Implementing an OMS may seem daunting, but with the right system and the right partner, it is a smooth transition and a long-term solution.
The right system with the right capability
Rubicon's distributed order management system (OMS) allows you to manage orders received from any digital channel like your website, stores, marketplaces, customer support, or other channels such as kiosks, digital magazines, etc. The system hosts a real-time engine that allocates the order to a preferable fulfilment point by evaluating various parameters like the availability of inventory, proximity to your customer, serviceability of their pin code, and Service Level Agreement adherence, amongst others.