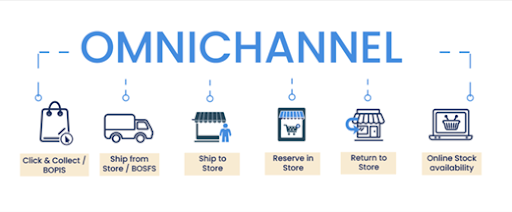 Omnichannel Retailing: Connecting offline and online touchpoints with tech tools
Post-pandemic, omnichannel retailing is the buzzword in the Indian e-retail lexicon.
Price is no longer the sole driver. People prefer channels that offer value and comfort. Marketers are ramping up their e-commerce across multiple channels – marketplaces like Amazon, Flipkart, Myntra own websites, and social media like Instagram and Facebook. This includes offline categories like electronics and fashion which were sold through traditional distribution channels.
A presence across multiple channels is not enough. India's hyper-connected consumers expect a seamless experience. Omnichannel retailing uses tech tools to connect all consumer touchpoints in the purchase journey. But an Omnichannel strategy is not without challenges. Let's examine the expectations of brands and retailers against the prevailing market realities in India.
How to ensure a seamless Offline-to-Online (O2O) experience?
Orders can come from anywhere. Studies show that four out of five new shoppers come from smaller towns. A common inventory pool is needed along with a centralized inventory system to manage last-mile delivery. An omnichannel approach is not only about speed or delivery options like 'click and collect or 'ship from store'. For example, leading denim brand Lee enables customers to order from any channel (webstore, online marketplaces, offline stores etc.) and the product is shipped from the nearest stock point (offline store, warehouse or marketplace). A customer can order a Lee product at any of the offline stores and in case it is not in stock, the customer can order it via the endless aisle. The product gets delivered to the customer's doorstep.
How to ensure visibility in a cluttered market?
Who in India does not know of Amazon or Flipkart? A recent survey of CXOs at leading consumer brands and retailers showed that their brands witnessed a strong shift in consumer demand to eCommerce marketplaces. So, while the buyers are prowling the vast online marketplaces, retailers must ensure they are visible in the search results. For example, the leading global sunglasses and eyeglasses brand Ray-Ban faced multiple challenges in India. These included a primarily offline distribution-led model while consumers were moving to digital channels. The brand experience got diluted due to the lack of exclusive stores. The cataloguing process was manual and involved a lot of effort. There was also the issue of disparity of promotions and discounts across online and offline channels. Ray-Ban partnered with ace turtle wherein the latter developed a state-of-the-art website with an international look and feel offering a superlative brand experience. ace turtle ensured Ray-Ban had improved customer experience through ease of discovery, availability of genuine products, faster deliveries and exclusive features such as virtual try-ons.
How to retain customers in the cut-throat online marketplaces?
Online marketplaces are like shopping malls that offer multiple brand options in the same product category. With competitors next door, how do brands and retailers retain customers? By offering a differentiated omnichannel experience. For example, Myntra, one of India's largest marketplaces has launched the concept of 'Myntra-Mall' on its app. Shoppers can virtually enter their favourite brand stores, just as they would in a mall. Several big brands, from Lee and Wrangler to Marks & Spencer and Biba, have tied up with Myntra.
How to maintain the optimal mix of online and offline?
Customers want to benefit from the advantages of both online and offline services, consuming information across all channels whenever and wherever they decide. They want the ease of buying through digital platforms and the person offering that comes with buying products in-store. While it's important to ensure your offline and online marketing strategies cater to your audience's differing wants and needs at each touchpoint, integrating your offline and online activity provides a consistent message, which will help build a trusted and cohesive brand.
Should an offline store remain open if it appears non-profitable? An omnichannel approach views every channel as a customer touch point, and not a profit centre. For example, ace turtle organizes Denim Rush, an omnichannel sales property for Lee & Wrangler. It is organized twice a year with an exclusive online marketplace partner and an exclusive department store chain partner each time. The property is promoted via in-store and website branding in addition to influencer marketing and social media posts. There are giveaways for customers of Lee & Wrangler such as cycles and celebrity-signed merchandise. The response from customers for the last 2 Denim Rush events has been great with a significant uptick in terms of both volume and value of sales.
How to hyper-personalize customer experiences across multiple channels?
Today's buyers expect a seamless, personalized, omnichannel experience. Today's buyer expects everyone they deal with from a potential solution provider to know what interactions (both on- and offline) have already occurred and what information has been exchanged. These customers are more likely to shop with brands that recognize, remember, and provide them with relevant offers and recommendations.
But creating personalized content is not enough. It must be relevant to the buyers' purchase journey and the type of channel. For example, ace turtle created a highly successful omnichannel event for leading denim brands Lee and Wrangler in November 2021. Named "Denim Rush", it was a joint event done across web stores (lee.in & wrangler.in), offline retail stores (franchise stores & shop-in-shop formats at malls) and on Flipkart. Customers were incentivised to avail of personalised offers on both brands. Held over a period of 10 days, this led to consistently high customer experience across channels and a significant sales uplift.
A Single or 360-degree view
An omnichannel retail strategy gives retailers the full picture – a unified view of the customer. But it is only when data is integrated from various channels, that great customer experiences are created. Managing data across different channels is one of the major challenges that marketers face. The best solution is to hire the right technology partner.
The Right Technology Partner
Finding the right technology partner is critical for omnichannel retail transformation. A partner with a sound technical understanding and industry know-how who can assist you in transforming your business inside out in a way ensuring both profitability and sustainability.
With its fully integrated omnichannel platform, ace turtle has helped brands by integrating all their sales channels to provide a single view of inventory and order, enabling brands to get orders from any channel (online and offline) and fulfil it from any stock point. The platform helps brands to improve their product availability and efficiently optimise their inventory through multiple demand channels (fulfilling from the same inventory pool), leading to a significant rise in sell-through and margins.