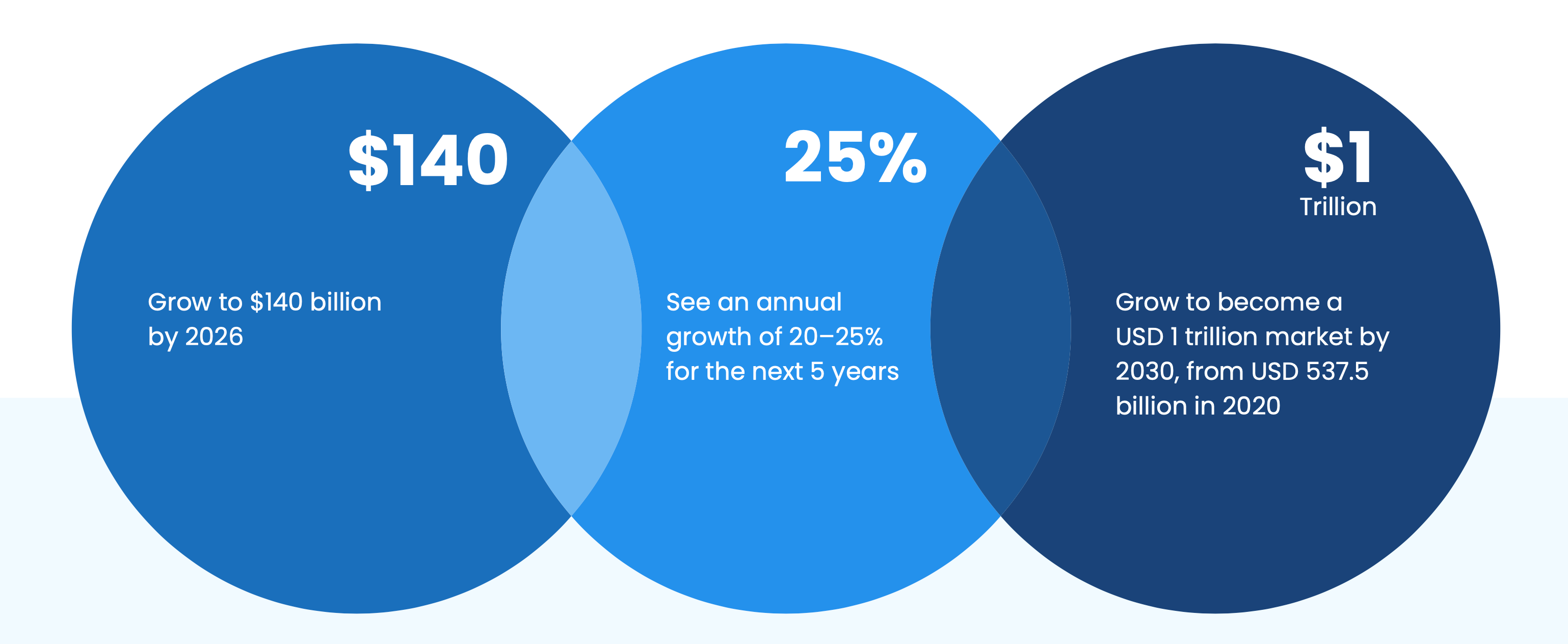 Landscape of Omnichannel Adoption in India's Retail Industry
The COVID-19 pandemic and the ensuing disruption to physical retail forced an en masse switch to online shopping. This large-scale shift to digital shopping significantly boosted e-commerce in India. Multiple industry projections estimate that the Indian e-retail market is set to grow to $140 billion by 2026, representing a growth of 20-25% yearly for the next five years.
The phenomenal growth of e-commerce has triggered discussion around the future of retail in India. However, it is still early days, and the brick-and-mortar stores aren't going anywhere. Despite the boom in e-commerce, it still accounts for only 7-8% of overall retail sales in India. This is true even for the USA, where online retail accounts for 18-20% of overall retail sales.
The pandemic saw a large-scale shift to digital shopping. Here are some vital stats on the Indian retail market from industry reports by Bain and Co and KPMG:
The Indian online retail market grew by 25% during the pandemic.
One in three people shopped online at least once in the previous year in the top eight metro cities.
61% of companies see an increasing shift to eCommerce adoption.
For 24% of the companies, eCommerce contributed more than 20% of the sales.
44% of companies saw a reinforcement of their online sales platforms.
According to multiple industry projections, the Indian e-retail market will:
Grow to $140 billion by 2026 that's larger than Modern Trade
See an annual growth of 20–25% for the next 5 years
Grow to become a $1 trillion market by 2030, from $537.5 billion in 2020
Top omnichannel trends seen driving the growth of eCommerce in India include:
50% higher growth was seen in omnichannel retail.
73% of customers used multiple channels to arrive at their purchase decision.
50% of customers consult three channels for high-value purchases.
There was a 3.5x higher engagement with omnichannel retail.
However, eCommerce still accounts for only 7–8% of overall retail sales in India. This calls for the 'phygital' method to ensure a seamless customer experience.
Despite the continued salience of offline retail, an offline-only approach will be imprudent. To expand their customer reach, brands must be available offline and online – the 'phygital' method. Such an approach will ensure a seamless customer experience.
Omnichannel Adoption in India
The omnichannel adoption in India is driven by the fact that even earlier, people researched products online and then bought them offline, or they checked out the item in the physical store and then bought it online (to benefit from discounts and easier delivery). The omnichannel shift in India is prompting digital-first brands to strengthen their offline play. Likewise, established FMCG players who, hitherto, only operated offline are now available on online channels. The omnichannel growth in India has empowered customers to make purchases whenever and wherever they want.
A PwC study found the following customer trends in India:
65% of Indians buy online primarily for convenience
31% of Indians buy online for the prices.
Products such as furniture, grocery, jewellery, etc., are also bought online.
Indian customers expect superior service from their in-store experience.
Growing customer-centric process adoption by companies, including improved online presence
Omnichannel retail enables customers to interact with multiple sales channels simultaneously. The retailer saves customer information as they transition between sales channels. Customers can check an item on their desktops, compare prices of products on smartphones, and make the actual purchase in a physical store in a seamless shopping experience.
Omnichannel commerce combines separate shopping channels. In contrast, unified commerce improves omnichannel selling, using cloud technology to integrate business functions, channels, and customer data on a unified platform. As a result, the customers need not move across channels; they stay on a single channel that provides them access to all other channels and data.
Retailers have begun integrating their stores and warehouses on a unified platform. This enables them to deliver faster from the nearest store or warehouse, reducing logistics costs and increasing sell-through.
Online marketplaces are also moving to build omnichannel capabilities. The marketplaces are tying up with brands to list their products online. This helps the marketplaces expand their product portfolio, meet increased customer demand, and attain 'ship-from-store' capability. It can be expected going forward that leading retail brands in India will leverage all available retail channels and warehouses to satisfy online customer demand.
The shift to omnichannel has forced firms to focus on their supply chain efficiencies. Tight integration between digital supply chains and physical networks is essential for processing orders received across multiple channels, exercising central control on inventory, ensuring efficient deliveries to customers, and maintaining healthy business margins.
Omnichannel commerce is also spurring the growth of automated inventory management, store integration, improved return management, reduced delivery times, and enhanced customer satisfaction. With newer technological innovations being rolled out rapidly, retail companies will certainly strive to make the shopping experience even more delightful for their customers.
ace turtle's fully integrated omnichannel tech platform Rubicon has helped over 50 brands by integrating all their sales channels to provide a single view of inventory and order. It enables brands to get orders from any channel (online and offline) and fulfil it from any stock point thereby providing a great customer experience. In India, categories such as fashion, consumer durables, electronics, beauty and lifestyle are increasingly adopting omnichannel commerce in a big way.